Fixed shower faucet: as the name implies, this shower faucet is fixed to the ceiling or to the wall of bathroom. It is elegant to use but not recommended for a family with kids.
Riser kit shower faucet: the position of this type of shower faucet can change in accordance with the person using it. It can also be removed for use.
Combination shower faucet: this allows you to have both fixed and detachable shower faucet. It is recommended for many groups of people.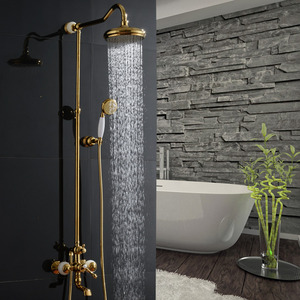 SOME TIPS TO BE CONSIDERED WHILE INSTALLING SHOWER FAUCETS
Checks: make routine checks before commencing installation or replacement of your shower faucets. Turn off water supply, thoroughly read the instruction manual and carry out other routine checks before starting.
Choosing: buy compatible and durable fixtures for your shower.
Final check: after you are through with your work, make final checks and if there are complications, consult an expert.
TYPES OF SHOWER FAUCETS
ultima modifica:
2015-12-21T10:28:53+01:00
da
Reposta per primo quest'articolo