In the past, faucet didn't get enough attention in the bathroom products. But now, it become a important role in the whole bathroom space which can effect the quality of bathing life. How to choose high quality bathroom faucets? I suggest you should pay attention to the appearance, valve and accessorizes.
Appearance: sleek, bright and no blubbers
Bathroom faucets with high quality always have chrome or nickel finish, and the layer of formal products is 28 micron and through the neutral salt spray test while within the time limit without corrosion phenomenon. This faucet bright surface has no glitches, no bubbles, no defects and no scratches, can keep bright as new after long-term use. Check the coating quality is good or bad with finger pressing at the faucet surface. If fingerprint spread quickly disappear, so the quality is good.
On the other hand, described the coating quality, but off. In addition, the leading light does not mean that feel good, whether that effort astringent or feel buoyant, were indicative of the assembly structure is irrational, this is not in use tap water is not good, is easy to leak water pressure is large.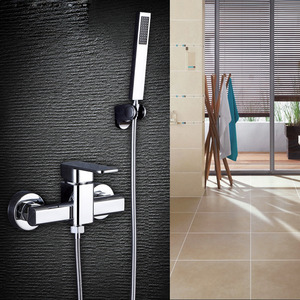 Valve: ceramic valve has long-life
Quality of valve is the key to faucet. Currently on the market faucets into three type of the built-in ceramic spool valve, ball valve and rubber spool.
Ball valve with its solid, durable ball body, tenacious anti-pressure ability to become a leader in a new generation of spool. Acts as a seal rubber ring is easy to wear and tear, aging, so more popular is ceramic valve.
Compared with the ball valve, ceramic valve has good sealing performance, and can be used more than 300,000 times, especially for imported ceramic chip physical performance is more stable, long life, normal use in more than 10 years. Low-end products to use copper, rubber seals, life is short, but has low prices.
In addition, in order to have facilitate connections, pipes and faucets in the home of convergence at the inlet valve must be installed the triangle valve. Triangle valve have different sizes, consumers must first determine the faucet into the water, while the size of the triangular inlet valve according to the size of hose.
Three steps for you to distinguish the quality of faucets
ultima modifica:
2015-11-13T06:42:49+00:00
da
Reposta per primo quest'articolo